SUMMER 2018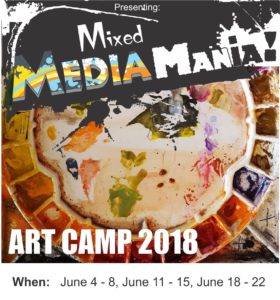 (Recommended ages: 7 – 13)
Week One – Paint 'Til You Faint!
Week Two – Paper Arts: Quilling, Origami, & Recycled Art
Week Three – Drawing, Illustration, & Design
Art Camp Bundle (All three weeks)
Lunch Provided by Jason's Deli (Please submit order form electronically)
Every year, MOMAC Studio hosts, "MIXED MEDIA MANIA!"– three weeks of summer time art fun featuring one of three premiere guest artists, all of whom have professional careers in fine art. Each week focuses on a different fine art medium giving students the opportunity to experiment with a variety of methods like creating textures in painting, building 3-dimensional art pieces, or working in fiber. Mixed media is an exciting form of fine art because it involves the fun and challenging process of combining the various art mediums we know about (like painting, sculpting or printing) and employing them in such a way as to produce a totally new piece of art. This is central to what we teach at the studio each semester!
Summer Series Saturday Workshops
(Recommended Ages: 5-8)
Each Saturday June 09, 2018 – August 04, 2018
10:00 am – 12:00 pm
All supplies included.