Toddler Time

In each Toddler workshop, families are introduced to different art media and students are encouraged to explore and to sharpen fine motor skills through experiential art projects. Classes can be attended independently, but together offer quality exposure for budding artists.
October Offerings:
Anatomy I and II for Artists
(Beginner to Advanced)
Anatomy I:
Students will learn the underlying structure of the human figure in order to construct dynamic drawings of people. We will draw from and analyze anatomical references and master works of art, then use these studies to create imagined figures in motion. Students will gain a greater understanding of the basic shapes of the body and how to add life to their drawings.
Anatomy II:
This class will focus on rendering and creating a series of finished drawing studies building on what we learned in Anatomy I.
************************************************************************************
October 27th
Oil Painting on Canvas, A Bob Ross Style Workshop
Utilizing the Bob Ross style, Debbie Hunt will demonstrate the "wet on wet" method of OIL PAINTING ON CANVAS, a fun and unique way to paint. This workshop is geared towards both the Beginner, age 16+(even if you can't draw a stick man!) and those who have painted for a while.
In her October debut, Debbie will share techniques to create a simple, yet beautiful painting – "Pond in the Woods", which will be on display at Momac Studio very soon. The fee of $70 includes ALL supplies and students leave with a completed oil painting of their own.
This workshop will meet from 9:00 am – 3:00 pm with a one-hour lunch break. So, just come with a desire to paint, relax, and have fun!
Debbie Hunt, Instructor
************************************************************************************
November Offerings
Saturday Mornings: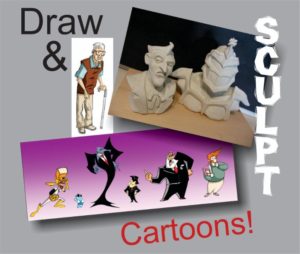 Learn how to DRAW and SCULPT cartoons! Building upon a foundation of observational drawing, you'll learn how to construct forms using a variety of shapes. The "Line of Action" will give you the power to draw your own characters in lots of exciting poses! Then, use your knowledge to sculpt facial expressions with clay! Let your imagination run wild with the Art of Character Design!
*All Materials Included
Larry Reid is a certified art teacher specializing in drawing, painting and sculpture. He optained his BA in fine Arts & Animation from the University of Centeral Florida in Orlando. He has taught art in the school system in Miami and for the Philadelphia Arts in Education Partnership in Philadelphia, PA. Larry enjoys building confidence in students to help them realize more fully their creative and technical proficiencies.